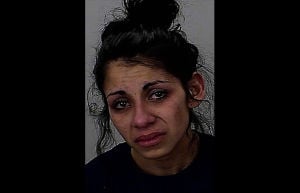 NORTH BEND -- A habitual resident of the Coos County Jail is one of three people facing multiple felony charges after police say they burglarized a middle school classroom for its computers.
According to Sgt. Buddy Young of the North Bend Police Department, 50-year-old Allen Henry Johnson, 19-year-old Scott Lee Smith and 22-year-old Danielle Marlene McGill are charged with first-degree theft by receiving, possession of stolen property, first-degree criminal trespass, aggravated theft, conspiracy to commit aggravated theft, second-degree burglary and conspiracy to commit second-degree burglary.
Smith and McGill are also charged with second-degree criminal mischief.
The charges stem from a burglary reported at North Bend Middle School on Thursday.
According to the North Bend Police Department log, the agency's detective was sent to North Bend Middle School just before 8 a.m. after the discovery of extensive damage to one of the school's classrooms.
Numerous laptop computers belonging to the school had been stolen.
Further investigation led officers to Johnson's home at 2185 Jackson St., where he and Smith were arrested Sunday morning after North Bend and Coos Bay police served a search warrant.
Officers recovered some of the computers inside the home.
McGill, however, was already in the custody of the county's corrections department.
North Bend officers had arrested her just after 8 a.m. Saturday after they took a report of a burglary in the 1600 block of Monroe Avenue.
When they got to the scene, they discovered the suspect, McGill, in the middle of stealing a car the next block over.
She was charged with unauthorized use of a motor vehicle, first-degree burglary, second-degree theft and possession of a Schedule I controlled substance.
McGill had previously been arrested at the Coos Bay Walmart in February on charges of meth possession and second-degree theft.