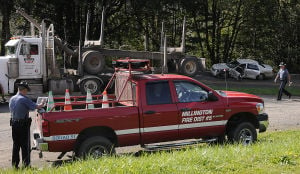 This is a developing story and will be updated
Witnesses say at least one person was taken to Bay Area Hospital after a devastating car-versus-log-truck crash in Allegany Monday morning.
Fire and medical personnel from the Millington Rural Fire Protection District and Bay Cities Ambulance were dispatched to Coos River Highway near the Allegany Community Center just after 10 a.m.
A log truck had collided with a small silver sedan, which suffered severe damage. The log truck itself traveled almost halfway off the road, its cab dangling in brush above the river.
Troopers from the Oregon State Police Coos Bay Area Command are investigating the crash, and say they expect to have more information available later this afternoon.
Tow trucks from Mast Bros. are on scene as of 11:30 a.m., and troopers are diverting traffic through the lower portion of the community center's driveway.