Oregonians don't need reminding how much worse slipping into a recession can be when they are loaded up with debt. It's a bad combination we wouldn't wish on anybody.
All small business owners to some degree (many severely) are being negatively affected by the overnight economic shutdown due to the COVID-19 virus. Fortunately, there are programs to assist s…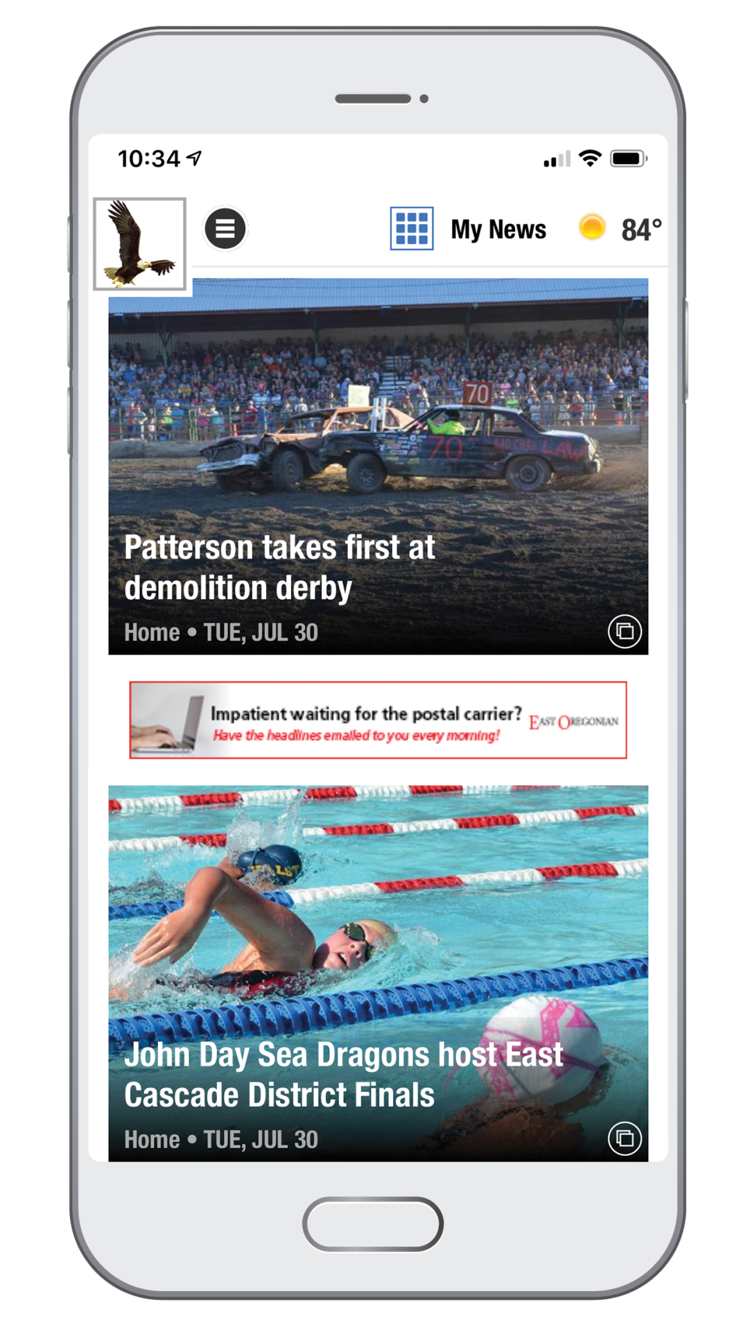 Get breaking news!
Like many of you I have accumulated quite a few things in my life. Some of these, without a doubt, are junk. I keep them because someday I might need them or perhaps someone I know will need t…
Norma Paulus would be proud. And she would be amazed. As secretary of state from 1977 until 1985, Paulus was the prime mover of Oregon's voting by mail. Other states have been slow to follow O…
Greetings, residents of Grant County.
Eastern Oregonians are typically an independent bunch who take great pride in overcoming challenges, from natural disasters to forest fires to economic downturns.
This morning, as I sit in my easy chair, a shawl wrapped around my shoulders to ward off the chill that pervades the house, my thoughts are on the world at large. The fire is starting to take …
If there was any doubt we are now living in a new, vastly changed world, those misgivings should have been appropriately vanquished during the weekend.
What is it about big guns? The fascination, the stigma, the Hollywood exaggerations? There are two kinds of people, when given the opportunity to shoot some kind of hand-held howitzer: The one…
Grant County ranchers and the Department of Agriculture from Salem met at the airport a week ago to discuss water issues and water quality. Many good questions were asked by ranchers, and the …
In 1857, Smith and Wesson developed a .22-caliber rimfire cartridge flinging a diminutive 29-grain bullet to the blistering speed of 1,000 feet per second using a 4-grain pinch of black powder…
It was nearly midnight. High school football practice was starting soon. And the blonde heroine in our story — let's call her Sandy Dee — was just getting her ducks in a row — or perhaps I sho…
The Republican boycott of cap and trade effectively prevented Democrats from enacting climate legislation, but their absence also prevented the Legislature from accomplishing much of anything …
Election security is a big discussion topic for the 2020 elections where misinformation is the biggest threat to elections.
There is no denying news about the novel coronavirus arrival on the West Coast is a real and growing concern, but panic is the wrong move for residents of our great state.
You get up one day, young and vibrant, feed the animals, sit down for breakfast, drink a cup of coffee — then boom, you're middle age, just like that. At least that's how I felt when I awoke o…
I have used the .270 a fair amount over the years, but have never really given it much thought. I've never actually owned one, but have taken deer, elk and coyotes with loaners. Recently one f…
As predicted, Democrats in the Oregon Legislature quickly led their climate change bill out onto center stage as soon as the 2020 Legislature convened earlier this month, reigniting a contenti…
Kerchuck... kerchunk... kerchunk.
There can be little doubt that Bill Ruger, the late co-founder of Sturm, Ruger & Co., was a genius. Time and again, he was able to foresee what the public wanted even before they knew them…
Monday's commemoration of Presidents Day was a moment to pause and reflect on the legacy of George Washington and Abraham Lincoln.
Everyone, it seems, is acquainted with the .243 Winchester. Almost anywhere you go you'll see a vast array of choices in both rifles and ammunition. Everything is covered, the total gamut from…
What makes a community healthy? According to the Lincy Institute, "A person's health is a product of their environment. As such, a healthy community is one in which all residents have access t…
The ostensible purpose of Oregon's public records laws is both simple and noble.
In about '79 or '80, my father was looking to upgrade from his trusty old .300 Savage to something with a bit longer legs. At Nydam's (then Coast to Coast) Hardware, where many legendary gun s…
If you are a hunter of mule deer, you see the females in May and you can tell which ones are ready to give birth. You look for the spotted fawns on their wobbly legs and say a silent prayer th…
Since it was passed by the Oregon Legislature last year as part of its education reform package, we've been hearing producers and vendors express concerns over the state's corporate activity tax.
It's no secret that my Democratic colleagues in the State Senate want to pass a cap-and-trade bill this year (SB 1530). They tried last year with HB 2020, but were unsuccessful. They've been w…