"May I help you?" the clerk asked.
"May I help you?" the clerk asked.
A few months ago, Oregonians learned they will be getting a kicker next year. Now, like clockwork, a noisy network of naysayers is clamoring to kick the kicker to the curb. I say, "No way!"
In mid-August, three days after Afghanistan fell to the Taliban, Oregon Gov. Kate Brown proclaimed our state "ready to welcome any and all Afghans." Fifty-one of 55 Democratic legislators, who…
The low fuel light appeared out of nowhere, or had it? I stared at the dash questioning how it was possible that I was once again running on empty and then laughed out loud, thankful I was alone.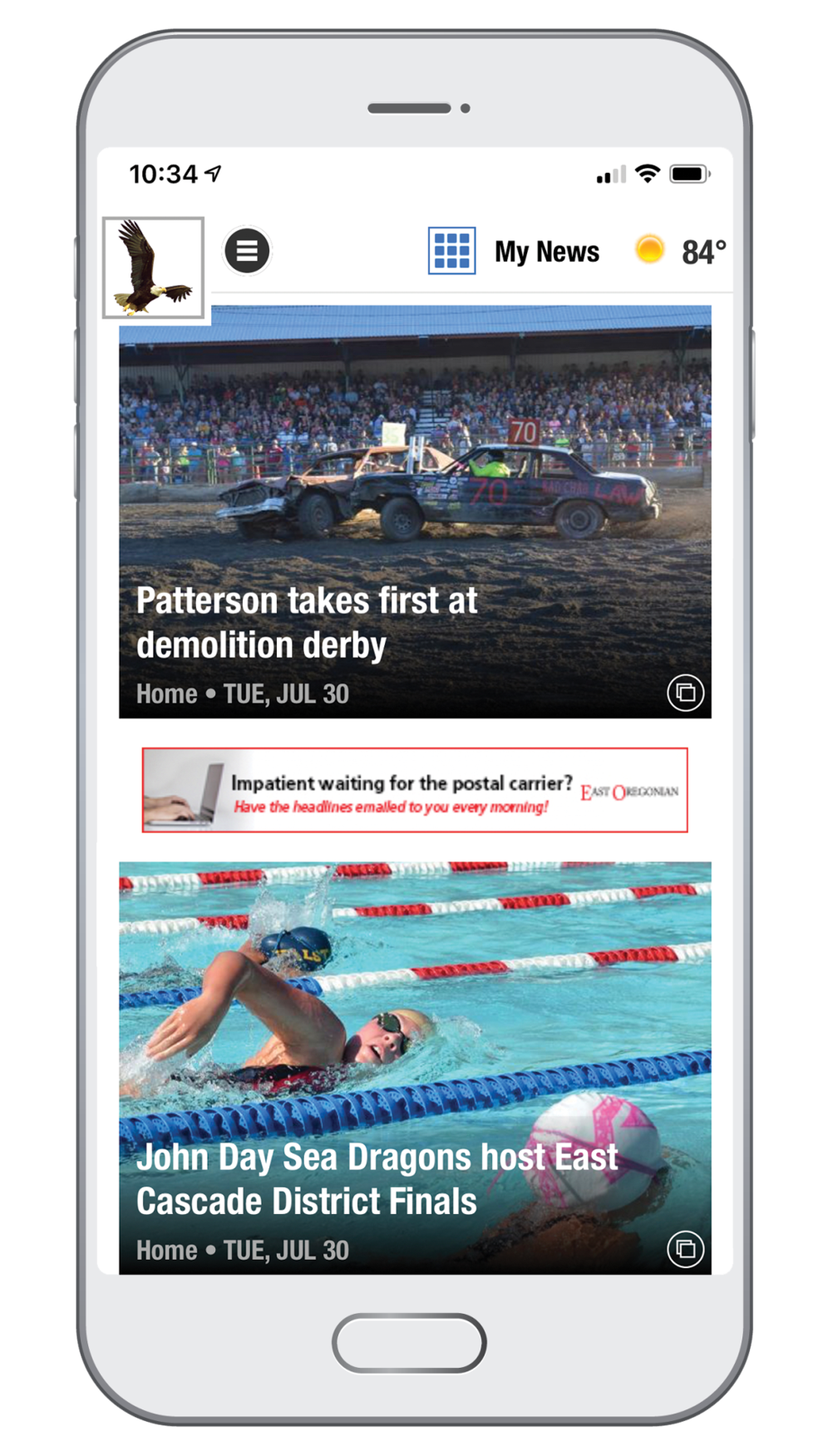 Get breaking news!
My extensive collection of nature-themed photographs I've taken includes wildlife from Grant County to the South Pacific, Scandinavia, and Eastern Europe. Unfortunately, the wildlife photograp…
State officials are wondering if the funding formula for Oregon's community colleges, such as Central Oregon Community College, is broken. They are looking at changing it.
Editor's note: This editorial originally appeared in the East Oregonian.
For many Oregonians, hunting, public lands and family go together. Every year, parents take their children out to bag their first buck, catch their first trout or take aim at their first covey…
I am one of 13 gubernatorial appointees and voting members of the Joint Task Force on Universal Health Care created by the 2019 Legislature. In June, we released a status report presenting our…
Democrats just passed a budget plan that would give federal bureaucrats the ability to "negotiate" drug prices directly with manufacturers.
One of the most important skills a hunter can develop is the ability to quickly build a stable shooting position. I watch hunting videos where they see the animal and then dink around getting …
We all have busy lives filled with activities from the moment we wake up until our head hits the bed. Yet quite often, at some point in the day, you might hear "I'm bored" or "I don't have any…
In today's world, it is essential that your company has a strong social media presence. Given that well over 90% of businesses utilize a variety of platforms to market their products or servic…
Sometimes size matters. It would be tough indeed to forget that iconic scene in Crocodile Dundee where the title character played by Paul Hogan warded off a gang of teenage ne'er-do-wells with…
Is the glass half full, or half empty? Henry David Thoreau once wrote, "It's not what you look at that matters, it's what you see." And this last week provided many opportunities to look and s…
I first learned of levitation when my children burst into the house one summer day. A young son recounted how the group had been playing hide-and-seek in the yard, and he ran into the cornfiel…
The question of whether or not health care workers should be required to get vaccinated has been answered: Mandatory vaccinations against COVID-19 for nurses and other health care workers are …
Grant School District 3 is excited to start school on Monday, Aug. 23rd! We want to thank our community for voicing your support for students and in-person instruction. We've heard you, all of…
Oregon Gov. Kate Brown's announcement of a COVID-19 vaccine mandate for nurses and other frontline health care workers will likely increase vaccination rates among those workers but will also …
It's back-to-school time. After this last year, our children experienced many futuristic forms of back to school. Very few were what we would consider normal with the pandemic happening around…
Sometime or another, we will experience a time when we are alone. Some people fear being alone for various reasons. The first step is to become comfortable with yourself and to have the self-c…
Despite my chronically habitual clichéd column titles, I hope you'll stay tuned in — I think at least in this case that Mr. Ted Nugent would approve. Recently I read a study taken in one of th…
As a high achiever, I've earned a shelf full of county fair ribbons and awards.
There has been a lot of discussion lately about John Day's budget and priorities. As city councilors, we want to affirm that our efforts have been in the best interests of our residents and co…
In the realm of orphaned and obsolete cartridges, few stories are as sad as the tale of Winchester's magnum .264. Introduced in 1958 along with the .338 Winchester Magnum in the rifleman's rif…
Every year, in homes across America, countless law-abiding citizens use firearms to protect themselves and their families from dangerous intruders.
With this Hadean, diabolical heat wave, I'm reminded of a classic country ballad "Cool Water." The longing for a cool drink in a seemingly endless desert is not lost upon my ears. It's been co…
In a women's group I am a part of, we were recently challenged to find a focus word for the year. Many of the women were familiar with focus words — I was not. The purpose is to choose a word …
Practice is key to mastery, and this is for sure true when it comes to young readers. Students who read during the summer have often maintained or even improved their reading skills. It also h…
Maybe some of you didn't hear me at the far edges of the border of Grant County, but the noises I was making upon discovering the results of ODFW's 2021 big game hunts draw could not be confus…
Handguns are only as useful as they are available. This is true for some rifles as well; dangerous game rifles come to mind. Unlike your favorite varmint, target or sporting rifle, a handgun d…
We celebrated National Flag Week last month! An entire week devoted to flying our beautiful Stars and Stripes. Instead of thinking about the things that divide us, it delights me that we have …
Starting in July, EO Media Group is launching Go! Magazine, a weekly arts and entertainment publication designed to do exactly what it says — get readers to "go" out and experience all of what…
My husband and I recently hiked to some natural hot springs to celebrate 16 years of wedded bliss. After a pleasurable 2-mile hike, we were soaking in a beautiful spring in the middle of a sno…
If there is someone out there who has absolutely never scoped themself, I'm dying to hear from you. Aside from the obvious bloody cut, usually on your eyebrow or occasionally the bridge of you…
It's hard to believe school is out for the summer or soon will be. There was no in-person schooling all year in some places, and others had all different modes of learning happening. No questi…
It seems that everywhere we go there are "Help Wanted" signs. Worse yet are those flyers hung in the window that say, "We've had to reduce our hours because we are short-staffed."
It's amazing the pressure that even a bit of stress can create. This is universal no matter which phylum you belong to. Duress can cause us to freeze up, perform super extraordinary feats, mak…
I think that every teacher deserves some sort of award this year. Our community has been incredibly supportive of our efforts at the schools. I am honored and grateful for working at Dayville …
In the 1800s, gun manufacturing was a boom. Many companies with war contract inventory to liquidate sold to the commercial market saturated with Western-bound opportunists suffering from wande…
In response to Robin Roberts' comment May 26, first of all, I would like to thank you for your service to our country as you stated that you are a veteran.
For the second year in a row, Memorial Day observances in communities, organizations and even within family groups looked very different because of the COVID pandemic.
Ideally, every time we take aim on a game animal we would squeeze off the perfect shot, the bullet would execute absolute perfect performance upon impact and our quarry would pass on to that g…
I am a 75-year-old veteran. I was raised, and spent most of my adult life, rural counties, including the past 25 years on Starr Ridge. On May 19, Coffee Time broadcast an interview with Bill N…
I first became aware of a moral dilemma at age 10 when I tumbled into a den churning with a mass of moral dilemmas.
At a May 19 meeting at Grant County Fairgrounds, we heard about Project Turnkey, which had been quietly promoted by Community Counseling Services, Families First, other social service bureaucr…
Understanding the world around us is the goal we want all our children to achieve. We want them to understand and explain what they see, hear and read. It should be really simple. You see it, …
While scrolling a certain social media feed, I saw a video of a certain nimrod who after taking aim over the hood of his Ford Ranger pickup proceeded to cut loose with a rapid four or five sho…
Believe it or not, we have been doing this column for over two years now, and while some of you may already have the effigy constructed for my heretical proxy purification in your back yard, t…
The time has come to put aside our differences and work together toward common goals and a unified mission.
I was 8 or 9 years old when my father bequeathed me the chore of getting the family firewood from the stack to the porch each night. Dad had been a timber feller for a long time until an accid…
Testing-Testing-Testing Why?
During the War Between the States, our first units of special forces were formed. Founded by Col. Hiram Berdan, the First and Second U.S. Sharpshooters were assembled primarily for scout and s…
There is no doubt the restaurant industry has been particularly hard hit during the pandemic and as part of the American Recovery Plan, $28.5 billion dollars has been used to establish a "rest…