The resignation of Oregon's former public records advocate, Ginger McCall, still echoes with consequences.
The resignation of Oregon's former public records advocate, Ginger McCall, still echoes with consequences.
Since May we have watched ever more stunning and audacious acts of violence committed in our great cities under the cover of "mostly peaceful" protests.
In its decision to phase out the pesticide chlorpyrifos, the folks at the Oregon Department of Agriculture appear to have forgotten someone: the farmers.
In today's pop culture climate, politicians rarely receive much thanks, but the work of U.S. Rep. Greg Walden stands out as a classic example of what an elected leader should do once he or she…
Trees might be leafing out by the time most of us get to decide whether to roll up a sleeve and have a needle pierce our skin and deliver a dose of a COVID-19 vaccine.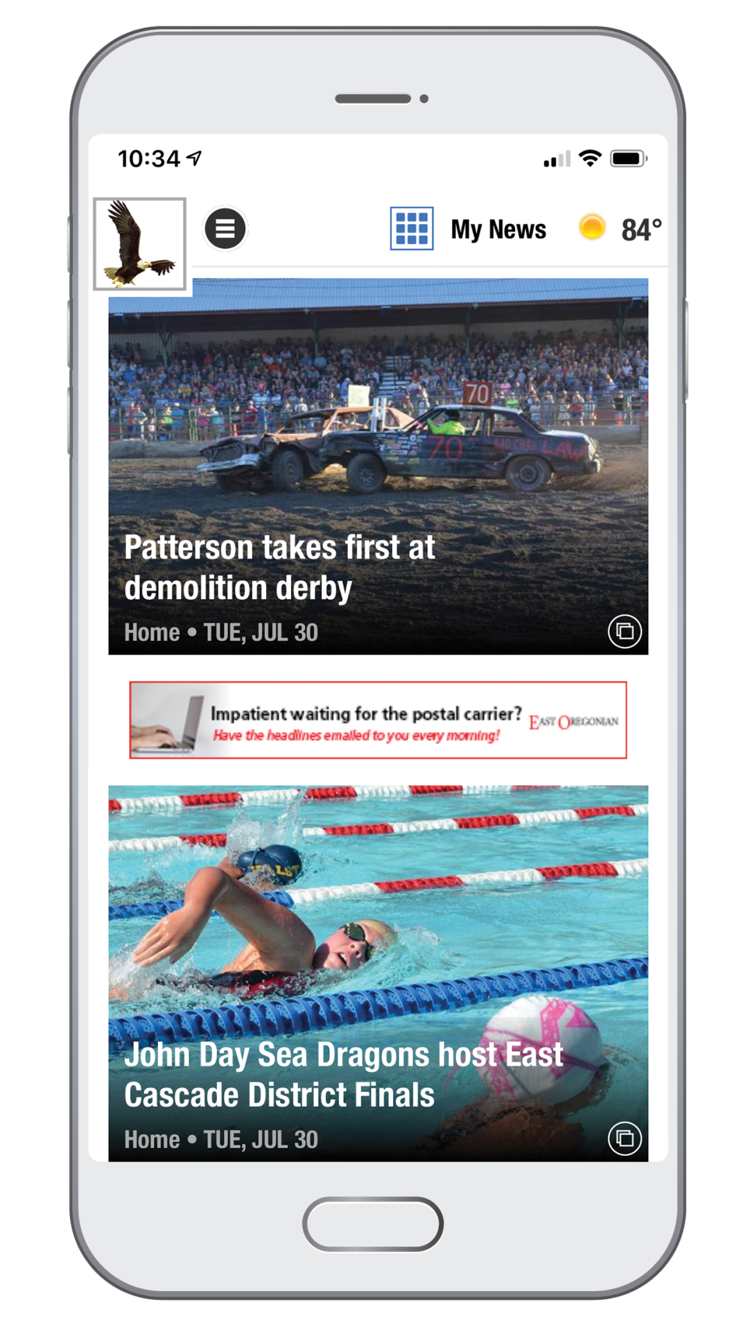 Get breaking news!
Come with us on a virtual road trip. We'll start in the Cascade Range near the Willamette Valley of Oregon and head south on Interstate 5. We'll stop in towns with names like Detroit, Gates, B…
Last month a coalition of agricultural and environmental groups announced an historic alliance to recommend proposals to the Biden administration to address climate change.
Oregonians made it through Gov. Kate Brown's statewide two-week "freeze," but there has been much more public resistance to this latest effort to slow the spread of COVID-19 than to her origin…
Recounts and legal challenges notwithstanding, it appears Joe Biden will be president on Jan. 20, 2021.
The news of skyrocketing numbers of COVID-19 infections across the United States is reminding us of the original meaning of the phrase "going viral."
The Blue Mountain Eagle will be printed on a different press going forward, but the same people will still be creating the same newspaper for our customers.
This year it is more important than ever to shop local.
Greg Walden is retiring, creating a race for an open seat for Oregon's 2nd Congressional District. Cliff Bentz, a Republican, is the best person to fill it.
Drug abuse and addiction are huge problems in Oregon. Methamphetamine, opiates (heroin, fentanyl and oxycodone and others) and cocaine damage and kill thousands of people every year. Few of us…
The University of California Cooperative Extension has issued a timely study showing cattle grazing is an essential tool in reducing wildfire.
Grant County's public records policy is problematic on several levels, and it certainly seems as if county officials are trying to make it more difficult for the public to see these public records.
Campaign finance reform seems like a no-brainer.
There are no adjectives that adequately describe the devastation that wildfires have brought to the West in the last month. At least 33 people are known to have died in the fires, and the dama…
Fires have ravaged the western part of our great state, displacing thousands, while smoke continues to linger in our county and elsewhere in Oregon.
The cost of health care has been growing faster than wages and faster than the state economy. Some Oregonians cannot get the health care coverage they want or worry they can't afford going to …
Now is the time to start thinking of creative ways to solve our child care crisis, as we rebuild our economy that has been so damaged by the COVID-19 pandemic.
News consumption is growing exponentially, but for the past decade, the revenue to news publishers has been on a decline. This is, in large part, because of the unbalanced relationship between…
The idea of a travel bans, because of COVID-19, briefly floated across the state radar screen not long ago before it seemingly vanished, and that is probably a good thing.
With all due respect, our friends at Harvard University are wrong.
The state of Oregon and the federal courts have not been on the same page when it comes to signature gathering during the pandemic. The case has become a clash between the First Amendment and …
Environmental advocates are howling over the Trump administration's proposed update of rules that govern the National Environmental Policy Act — the first since its implementation in 1978.
Feeding America is a tough job, but U.S. farmers, ranchers, orchardists, dairy operators and food processors rise to the occasion every day. Together, they produce plenty of affordable food fo…
Every month since early in 2018, the Oregon Department of Human Services has been publishing reports for Gov. Kate Brown showing its progress to rebuild and improve the state's foster care system.
Cattle ranchers in Oregon's wolf country face a dilemma when a calf or cow turns up dead: Report it to the state Department of Fish and Wildlife and time the response with a calendar, or ignor…
It was 244 years ago, in 1776, that 13 British colonies in North America declared their independence.
The COVID-19 virus outbreak put unexpected pressure on an array of state and federal agencies, and in at least one case, the compression created leaks that sprouted into wide fissures.
Gov. Kate Brown used an apt metaphor recently regarding the COVID-19 virus and what may be in store for the state over the next month.
A good opportunity to debate and seek solutions regarding the impact of Gov. Kate Brown's COVID-19 restrictions in Eastern Oregon was missed last week when top elected leaders from seven count…
Gov. Kate Brown and Oregon legislators are meeting behind your back. They are more interested in expediency than the public's right to know.
Oregon's general fund budget may take a $2.7 billion hit in this current budget cycle. Oregon cannot legally have a budget deficit. How will the state cut that money?
Oregonians trust politicians to make decisions about what taxes are collected, how taxes are spent and policies that shape lives. But should politicians be trusted with setting up voting districts?
There is a growing probability that Gov. Kate Brown will call a special session of the Oregon Legislature within the next few weeks to deal with expected budget shortfalls created by the COVID…
Everyone who has died in Oregon from COVID-19 has had an underlying medical condition. So, it was vital that the Oregon Health Authority release the data showing what those conditions have been.
The online candidate forum sponsored by the EO Media Group is over, and we are all pleased it proved to be a success.
As the world has been divided into essential and nonessential businesses, local newspapers providing credible information in this public health crisis fall firmly into the essential camp.
Our system of government by the people for the people does not work when government officials refuse to keep the people informed about their actions.
It looked like the White House and Democrats in Congress were closing in on a deal Tuesday to restock the popular program to help small business.
Gov. Kate Brown announced on March 18 that the state had a deal with a private laboratory to do 20,000 COVID-19 tests. In early days of the state's pandemic response, it was a very reassuring …
Oregonians don't need reminding how much worse slipping into a recession can be when they are loaded up with debt. It's a bad combination we wouldn't wish on anybody.
Norma Paulus would be proud. And she would be amazed. As secretary of state from 1977 until 1985, Paulus was the prime mover of Oregon's voting by mail. Other states have been slow to follow O…
Eastern Oregonians are typically an independent bunch who take great pride in overcoming challenges, from natural disasters to forest fires to economic downturns.
If there was any doubt we are now living in a new, vastly changed world, those misgivings should have been appropriately vanquished during the weekend.
The Republican boycott of cap and trade effectively prevented Democrats from enacting climate legislation, but their absence also prevented the Legislature from accomplishing much of anything …
There is no denying news about the novel coronavirus arrival on the West Coast is a real and growing concern, but panic is the wrong move for residents of our great state.
As predicted, Democrats in the Oregon Legislature quickly led their climate change bill out onto center stage as soon as the 2020 Legislature convened earlier this month, reigniting a contenti…
Monday's commemoration of Presidents Day was a moment to pause and reflect on the legacy of George Washington and Abraham Lincoln.
The ostensible purpose of Oregon's public records laws is both simple and noble.
Since it was passed by the Oregon Legislature last year as part of its education reform package, we've been hearing producers and vendors express concerns over the state's corporate activity tax.
Oregon legislators will hit the 2020 legislative session on Feb. 3, and while there are already a number of high-profile bills on the horizon, elected leaders should remember that complex legi…
The Oregon Senate's Interim Committee on Environment and Natural Resources has unveiled the Legislature's latest version of climate change legislation.