"Drink your milk." That's an admonition every smart mother has given her children.
"Drink your milk." That's an admonition every smart mother has given her children.
Inside this week's Blue Mountain Eagle, you'll find a short story about the return of Christmas on the Prairie, a Prairie City tradition that kicks off the holiday season in small town, all-Am…
Oregon State University-Cascades Campus now has its first doctoral program. It has a beautiful campus — reclaiming a mining pit. It's student population is growing when other colleges across t…
7. That's a low number out of 1,491. It's less than 1%. 1,491 is the number of people cited for Class E Violations through Oct. 31 under the new Oregon penalties that decriminalized most unlaw…
Let's take a moment to show some appreciation for Grant County's high school athletes, who just wrapped up fall sports. Both Grant Union and Prairie City sent teams to the postseason, and whil…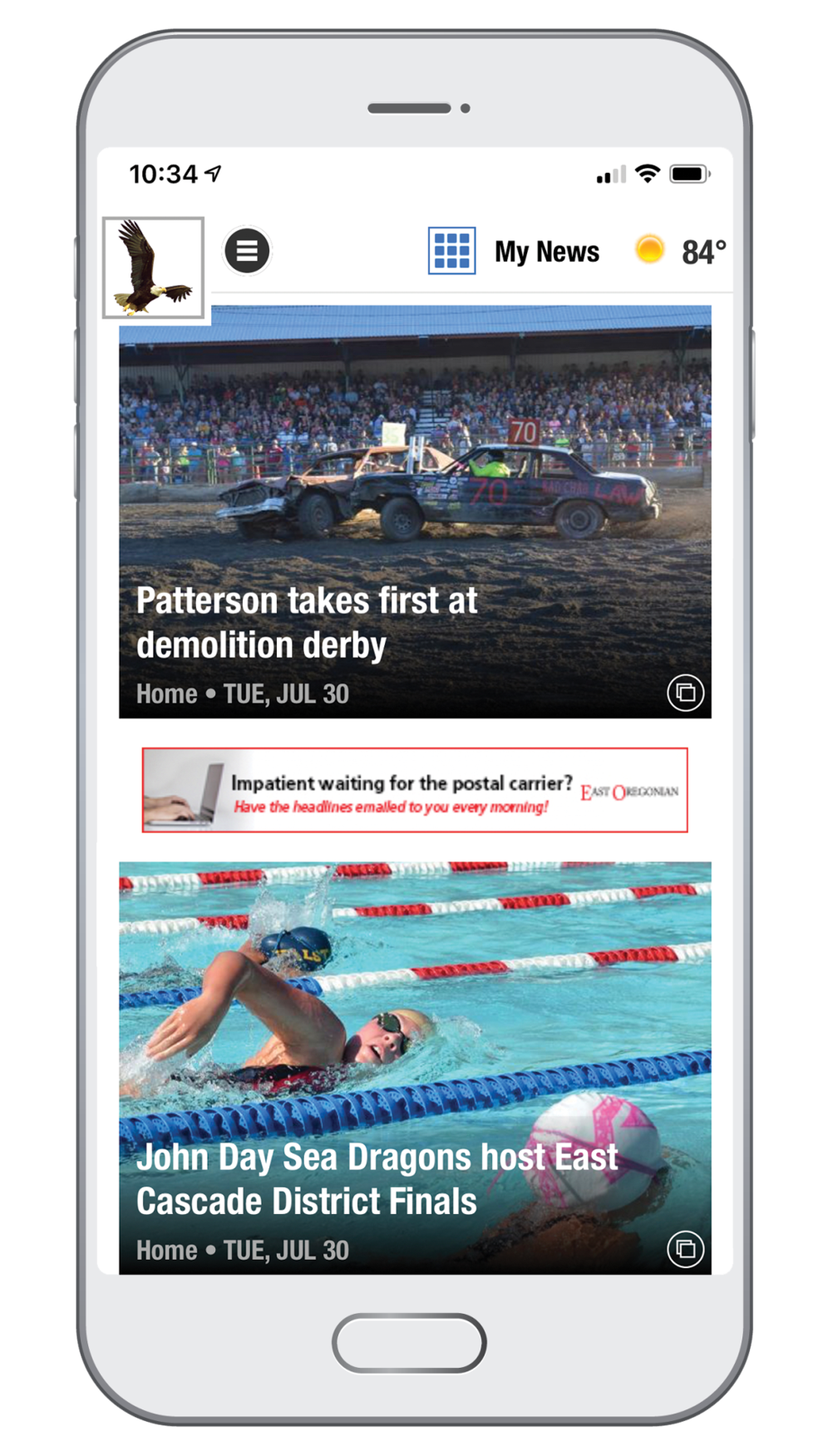 Get breaking news!
Oregon had a chance to do redistricting right. Instead it made a mess of things, further dividing our state politically and further eroding Oregonians' confidence in the electoral system.
Seven years ago, Oregonians were told that by legalizing marijuana and hemp they could solve an array of problems. Pot smokers could come out of the shadows and hemp could take its place as a …
If it takes 15 pages to convince somebody you are an Oregon resident, well, it could be the evidence is so overwhelming that there's a lot to say!
The National School Boards Association's definition of what might constitute domestic terrorism and hate crimes is awfully broad.
As some readers of this newspaper may already be aware, the Blue Mountain Eagle has a new editor. After nearly five years in the position, Sean Hart has decided to move on to pursue other inte…
We have from the start advised those old enough and medically able to be vaccinated against the COVID-19 virus. We have also pressed employers to take reasonable steps to protect their employe…
Sen. Ron Wyden should get kudos for sponsoring a virtual town hall session in August regarding his River Democracy Act, and the esteemed lawmaker did a good job of answering questions and tryi…
In almost the same breath that state officials announced that an average Oregon taxpayer may get a $850 kicker tax rebate, they were hinting at changing the kicker.
When Oregon Gov. Kate Brown reinstituted the mandate that Oregonians must wear masks to halt the spread of the COVID-19 delta variant that threatens to overwhelm hospitals in some areas, she s…
There is no way to sugarcoat the bewildering and abysmal departure of the United States from Afghanistan.
The Oregon Legislature has hit on a winner with the Irrigation District Temporary Transfers Pilot Project.
It is not a political scandal by any means, but the recent news Gov. Kate Brown spent a large chunk of public money to pay one of her former advisers to serve as a political consultant leaves …
The Legislature created the Oregon Forest Resources Institute 29 years ago during the timber wars, which featured battles over logging, fierce debates over the role of state and federal forest…
It was a bit surprising to discover that some of the rivers proposed for Wild and Scenic designation were dried up or creeks, streams or gulches — not really rivers at all.
At least at first glance, the idea that police departments should be abolished in favor of other methods of protection seems so counterintuitive, it's difficult to know where to begin.
We add our voice to those who believe an enemy of livestock grazing with ties to ecoterrorists shouldn't lead the Bureau of Land Management.
Like many people, we weren't aware until recently that the nation's meatpacking industry was so technologically sophisticated and dependent that it could be hacked and shut down by bad actors.
The Oregon Legislature has suspended through 2024 the requirement that students show proficiency in reading, writing and math — the aptly named "essential skills" — as a requirement for gettin…
The Oregon Secretary of State's Office audits tell us what we know but need to be reminded about: State government makes mistakes with money.
Farmers and ranchers learn to keep a sharp eye out for invasions. Not the military kind, the pest kind.
Oregon governments, from the governor's office down to library boards, are supposed to be transparent. They are in a number of ways. But they don't always put their heart into it. Sometimes th…
Oregon lawmakers made a good move toward greater transparency in government when they passed two bills connected to higher education.
In the end, it is a shame that a few Oregon lawmakers were forced to resort to a little-known, and hardly used, rule to get a bill that addresses criminal sexual contact off the ice and moving…
An Oregon initiative petition drive now gathering signatures seeks to end "unnecessary exemptions to laws governing animal abuse, animal neglect, and animal sexual assault."
Oregon state Sen. Mike Dembrow, D-Portland, has been noisy about the need for the Oregon Health Authority to be transparent about the COVID-19 data it releases.
Today we'd like you to draft a multimillion dollar wish list and send it off to your Oregon state senator and state representative.
The state of Oregon's plan to salvage the timber in a small part of the Santiam State Forest is a win-win both for the people who live and work there and for the people who own it — the taxpayers.
A prodigious amount of U.S. farmland continues to be converted to other uses. The American Farmland Trust estimates that between 2001 and 2016 more than 11 million acres were taken out of ag p…
The Oregon Legislature is poised to approve yet another gun mandate, and while the battle lines over such issues are clearly drawn, the real lesson for voters is they must remain involved and …
State Senate President Peter Courtney held a news conference before the 2021 legislative session to announce steps to keep the legislative process accessible to Oregonians.
In crafting his plan for the removal of the dams on the lower Snake River, Rep. Mike Simpson has managed to forge consensus between farm, shipping and environmental interests on his idea. They…
Rural Oregon is facing a difficult post-COVID economic recovery. The $1.9 trillion federal coronavirus relief package will undoubtedly help, but without addressing some long-standing barriers …
Policy disagreements, partisanship and the walkouts can give Oregonians a distorted picture of what their Oregon Legislature is like. Journalists — and certainly this editorial page — tend to …
The fight for more transparency is more important now than ever before, and one of our most important jobs as a newspaper is to consistently push to ensure the light of clarity shines into eve…
Do you think Gov. Kate Brown should do more to get schools to reopen? Do you think more should be done to vaccinate seniors sooner?
The federal stimulus checks helped a lot of Oregonians out when they needed it. And it is also going to help out Oregon government — about $100 million in federal stimulus payments is going to…
When the Blue Mountain Eagle and other newspapers request access to information from the government, it sometimes hits the "Wall of No."
On occasion, we are reminded that the budget process used by the Oregon Legislature and state agencies is a bit curious.
"The U.S. can't go it alone." For many years policy wonks in Washington, D.C., and elsewhere have told Americans the U.S. shouldn't take on major international issues by itself.
Frustration. Confusion. Fear. Anger.
Fulfilling a campaign promise, Joe Biden wants to boost the federal minimum wage to $15 an hour.
The resignation of Oregon's former public records advocate, Ginger McCall, still echoes with consequences.
Since May we have watched ever more stunning and audacious acts of violence committed in our great cities under the cover of "mostly peaceful" protests.
In its decision to phase out the pesticide chlorpyrifos, the folks at the Oregon Department of Agriculture appear to have forgotten someone: the farmers.
In today's pop culture climate, politicians rarely receive much thanks, but the work of U.S. Rep. Greg Walden stands out as a classic example of what an elected leader should do once he or she…
Trees might be leafing out by the time most of us get to decide whether to roll up a sleeve and have a needle pierce our skin and deliver a dose of a COVID-19 vaccine.
Come with us on a virtual road trip. We'll start in the Cascade Range near the Willamette Valley of Oregon and head south on Interstate 5. We'll stop in towns with names like Detroit, Gates, B…
Last month a coalition of agricultural and environmental groups announced an historic alliance to recommend proposals to the Biden administration to address climate change.
Oregonians made it through Gov. Kate Brown's statewide two-week "freeze," but there has been much more public resistance to this latest effort to slow the spread of COVID-19 than to her origin…
Recounts and legal challenges notwithstanding, it appears Joe Biden will be president on Jan. 20, 2021.