With all due respect, our friends at Harvard University are wrong.
With all due respect, our friends at Harvard University are wrong.
The state of Oregon and the federal courts have not been on the same page when it comes to signature gathering during the pandemic. The case has become a clash between the First Amendment and …
Environmental advocates are howling over the Trump administration's proposed update of rules that govern the National Environmental Policy Act — the first since its implementation in 1978.
Feeding America is a tough job, but U.S. farmers, ranchers, orchardists, dairy operators and food processors rise to the occasion every day. Together, they produce plenty of affordable food fo…
Every month since early in 2018, the Oregon Department of Human Services has been publishing reports for Gov. Kate Brown showing its progress to rebuild and improve the state's foster care system.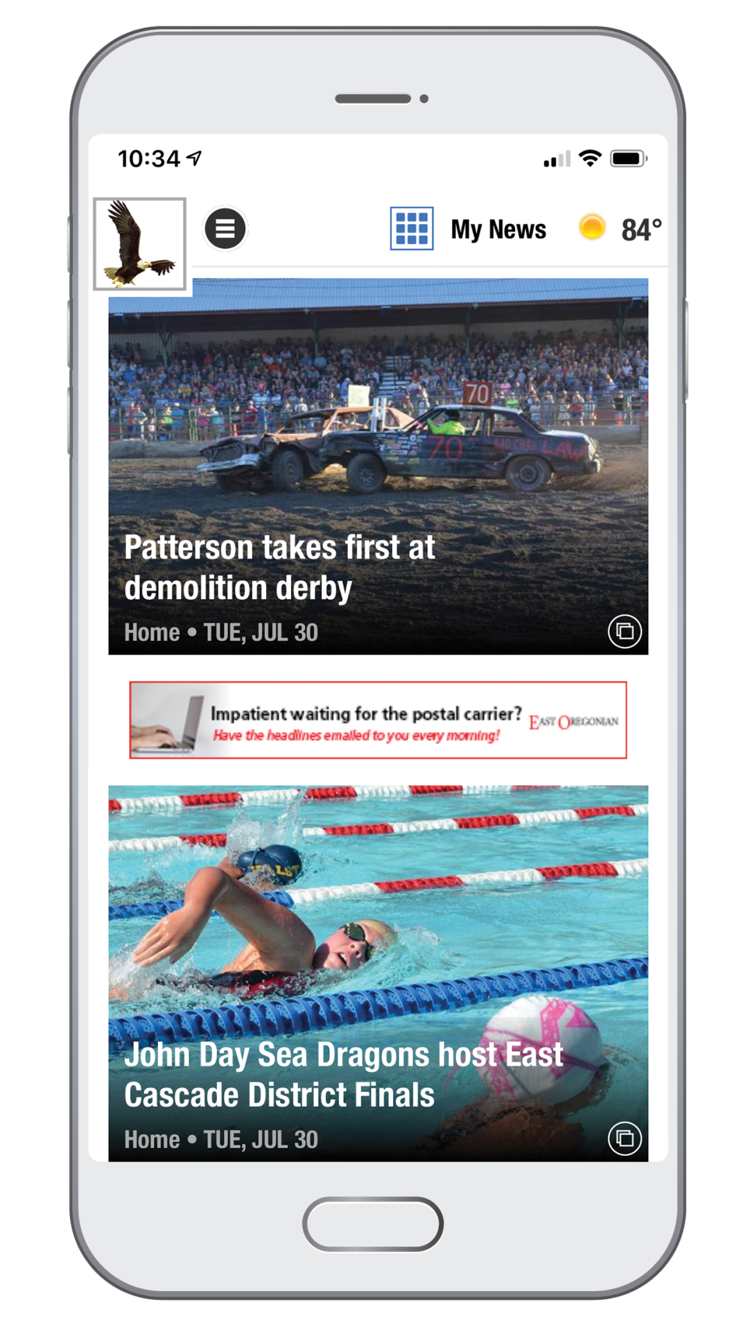 Get breaking news!
Cattle ranchers in Oregon's wolf country face a dilemma when a calf or cow turns up dead: Report it to the state Department of Fish and Wildlife and time the response with a calendar, or ignor…
It was 244 years ago, in 1776, that 13 British colonies in North America declared their independence.
The COVID-19 virus outbreak put unexpected pressure on an array of state and federal agencies, and in at least one case, the compression created leaks that sprouted into wide fissures.
Gov. Kate Brown used an apt metaphor recently regarding the COVID-19 virus and what may be in store for the state over the next month.
A good opportunity to debate and seek solutions regarding the impact of Gov. Kate Brown's COVID-19 restrictions in Eastern Oregon was missed last week when top elected leaders from seven count…
Gov. Kate Brown and Oregon legislators are meeting behind your back. They are more interested in expediency than the public's right to know.
Oregon's general fund budget may take a $2.7 billion hit in this current budget cycle. Oregon cannot legally have a budget deficit. How will the state cut that money?
Oregonians trust politicians to make decisions about what taxes are collected, how taxes are spent and policies that shape lives. But should politicians be trusted with setting up voting districts?
There is a growing probability that Gov. Kate Brown will call a special session of the Oregon Legislature within the next few weeks to deal with expected budget shortfalls created by the COVID…
Everyone who has died in Oregon from COVID-19 has had an underlying medical condition. So, it was vital that the Oregon Health Authority release the data showing what those conditions have been.
The online candidate forum sponsored by the EO Media Group is over, and we are all pleased it proved to be a success.
As the world has been divided into essential and nonessential businesses, local newspapers providing credible information in this public health crisis fall firmly into the essential camp.
Our system of government by the people for the people does not work when government officials refuse to keep the people informed about their actions.
It looked like the White House and Democrats in Congress were closing in on a deal Tuesday to restock the popular program to help small business.
Gov. Kate Brown announced on March 18 that the state had a deal with a private laboratory to do 20,000 COVID-19 tests. In early days of the state's pandemic response, it was a very reassuring …
Oregonians don't need reminding how much worse slipping into a recession can be when they are loaded up with debt. It's a bad combination we wouldn't wish on anybody.
Norma Paulus would be proud. And she would be amazed. As secretary of state from 1977 until 1985, Paulus was the prime mover of Oregon's voting by mail. Other states have been slow to follow O…
Eastern Oregonians are typically an independent bunch who take great pride in overcoming challenges, from natural disasters to forest fires to economic downturns.
If there was any doubt we are now living in a new, vastly changed world, those misgivings should have been appropriately vanquished during the weekend.
The Republican boycott of cap and trade effectively prevented Democrats from enacting climate legislation, but their absence also prevented the Legislature from accomplishing much of anything …
There is no denying news about the novel coronavirus arrival on the West Coast is a real and growing concern, but panic is the wrong move for residents of our great state.
As predicted, Democrats in the Oregon Legislature quickly led their climate change bill out onto center stage as soon as the 2020 Legislature convened earlier this month, reigniting a contenti…
Monday's commemoration of Presidents Day was a moment to pause and reflect on the legacy of George Washington and Abraham Lincoln.
The ostensible purpose of Oregon's public records laws is both simple and noble.
Since it was passed by the Oregon Legislature last year as part of its education reform package, we've been hearing producers and vendors express concerns over the state's corporate activity tax.
Oregon legislators will hit the 2020 legislative session on Feb. 3, and while there are already a number of high-profile bills on the horizon, elected leaders should remember that complex legi…
The Oregon Senate's Interim Committee on Environment and Natural Resources has unveiled the Legislature's latest version of climate change legislation.
There couldn't be a clearer case about both the value and flaws in Oregon's public records law than the current one in Douglas County.
The Oregon Legislature created the office of public records advocate in 2017, and Ginger McCall was appointed to the post in January 2018 by Oregon Gov. Kate Brown. One year and nine months la…
Oregon Secretary of State Bev Clarno rejected two initiative petitions in December because they included more than one topic. It's the second time recently she's told would-be petition sponsor…
Maybe the third try will be successful in cobbling together a roadmap for the management of three sprawling national forests in Eastern Oregon.
Over the last three years we've learned to be cautious with our optimism on matters of trade. But, it looks as though there has been some positive movement on that front this month.
In an era of bare-knuckled politics, it is instructive to reflect on the career of William Ruckelshaus, the first administrator of the U.S. Environmental Protection Agency.
Farmers have been poring over the details of the U.S. Department of Agriculture's interim rules governing the production of hemp. They haven't liked a lot of what they see.
With the holiday shopping season upon us, we would like to urge residents to shop local, and here's why.
When people spend other people's money, they can be less than finicky. And so it seems with workers at the state of Oregon.
A recent study produced by the Knight Foundation and Gallup probably didn't grab the attention of a lot of county residents, but it sure caught our gaze.
For years we've advocated for legislation that would give agricultural producers and processors easier access to affordable, legal foreign workers they need to make up for the lack of domestic…
Oregon Republicans most likely understood at the end of the last session that the controversial carbon emission issue wasn't going to go away.
Oregon may not know it yet, but in 2021, it is going to lose a tremendous amount of influence in Washington, D.C.
You can be savoring an IPA along the John Day River after a long day of adventuring in Oregon's forests and honestly wonder if things couldn't get much better. But sometimes those charged with…
Ginger McCall, Oregon's first public records advocate, left office Oct. 11 with some suggestions for her successor, the Public Records Advisory Council she headed and lawmakers and other offic…
With all due respect to Sonny Perdue, there's more to farming than size.
Farm groups are lauding a new agricultural trade deal the administration has reached with Japan.
Oregonians may be asked next year to approve a ballot measure that would decriminalize the possession of illegal drugs. That in itself is a bad idea. Worse is the way the measure would finance…
Gov. Kate Brown missed an excellent opportunity when she declined last week to call for a special session of the Legislature to amend Senate Bill 1013, a new law that revises the crime of aggr…
Gov. Kate Brown's decision to hire Oregon's first public records advocate in January 2018 was a promising step toward addressing deficiencies with how agencies, at both the state and local lev…
The efforts to put a recall of Oregon Gov. Kate Brown on the ballot is a visible sign of the rural-urban divide.
We remember when we found out that our favorite chocolate chip cookies weren't made by elves in a hollow tree. Had we not been 8 at the time we might have hired a lawyer and taken the folks at…
Malheur County Sheriff Brian Wolfe effectively ended a broiling controversy Wednesday when he announced that there would be no investigation of a local newspaper regarding alleged telephonic h…